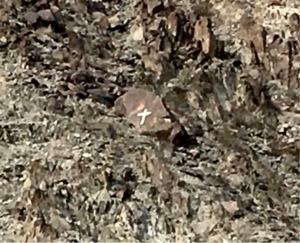 IF YOU COULD PROCLAIM YOUR LOVE, WOULD YOU CLIMB A MOUNTAIN TO SHOW IT?
Psalm 95:4
"In whose hand are the depths of the earth, the peaks of the mountains are His also."
Recently, I saw this cross boldly painted far up the side of a steep mountain in California. I could not imagine all that it would take for a person to traverse the rough terraine to such heights, no less carrying the paint and tools used to boldly proclaim their love of the Lord.
Although we all may not be equipped to climb mountains, we all have the ability to display our love of God through our daily actions. Our constant expression of faith shouts out our love to the Lord and prevails over the fears of uncertainty in this world.
This Thanksgiving season, let us etch the cross in our hearts and display it's presence boldly through our actions, deeds and words. Climb to the heights of your own personal mountain and make your proclamation to God.
Someone climbed a mountain in California to paint a Cross … what is your goal today?
Many blessings to you and your families for a healthy and joyous Thanksgiving.