IS THE GOD YOU WORSHIP THE GOD OF THE BIBLE?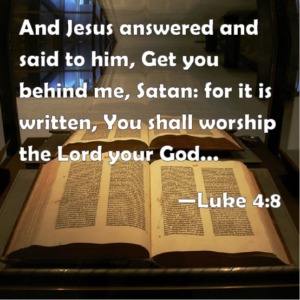 Luke 4:8
And Jesus answered and said to him, "Get you behind me, Satan: for it is written you shall worship the Lord your God."
During this 40-day period of Lent, let us consider Jesus being led by the Holy Spirit on His 40 day journey in the wilderness. Think of the struggles He endured and the temptations He rejected.
May we strive to emulate his dedication to prayer, fasting and reflection in order to strengthen ourselves against the temptations we face on a daily basis. May we be fortified and strengthened by our daily prayers and spiritual reflections in order to stay focused on worshipping the true God … the God of the Bible, not the material images many fall prey to worshipping.
May our efforts of these 40 days become habit, learning to resist our egos of pride and greed. May we silence selfishness and magnify selflessness as we journey with God in a prayerful and meaningful way.
God bless!